You take pride in your work. When someone says something bad about one of your products, your employees, or a service you provided them, it hurts. It's only natural to react emotionally, but that could be very bad for business.
If you've just received a negative review, take a deep breath, and then take these four steps to best handle it, which will limit its impact on your business and your SEO efforts: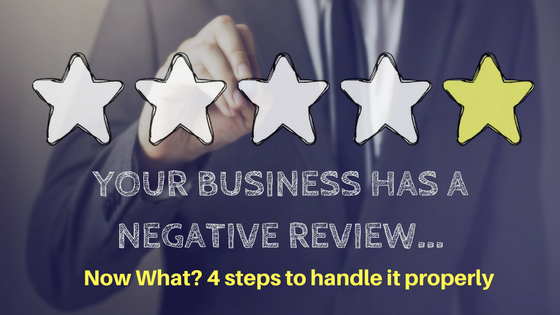 Realize you can't make everybody happy
First, you need to accept what sounds unacceptable – you cannot make every customer happy.
All businesses get negative reviews, and no business can completely satisfy everyone. Yes, the negative review stinks and might impact your business, but what you do next will determine how the review affects your business. The best approach is a calm and caring one, and in order to take that approach, you have to accept that not everyone is a perfect fit for what your business offers.
Take care of the customer
The service and experience that's related to your services or products doesn't end after a customer has made a purchase. This customer is still your customer.
Your service didn't live up to their expectation. How you treat and react to them will have a much bigger impact on your business than trying to simply hide their review. By still showing care and working to make the situation right, you may be able to change their review, and more importantly, earn a loyal customer for life.
Tips:
Call to apologize for their negative experience.
Ask the customer for advice on how you can avoid this with current and future customers.
Ask the customer how you can make it up to them.
Note: This should be done on a personal level through either an email or phone call. You want to show them that you care about them and are working to make it right, and make sure this doesn't happen again.
Draft a response, and get a second opinion
If you've contacted your customer and tried to work with them to come to a favorable conclusion and the review still remains unchanged, you should prepare a response that you will post directly responding to their negative review online.
Tips:
Be sympathetic
Be polite
If you offered a potential solution that was turned down, feel free to re-offer it here.
Example Response: "Mary, I am very sorry for your experience. I appreciate you taking the time to speak with me about this last week. My offer to give us another chance at no charge still stands if you change your mind. We are always working to improve what we provide to our customers, and your review and feedback help us accomplish this. Thank you."
Note: Keep in mind that this response may be viewed by thousands of potential customers. Before you post, get feedback from a trusted friend, spouse, or mentor. If your satisfied with your response and someone you trust agrees, go ahead and post it.
Encourage new reviews
Few customers leave reviews. By encouraging your customers, both existing and new, to review your business, you'll be able to minimize the impact of your negative review and any future ones.
Tips:
When speaking with a satisfied customer (on phone, email, or in-person), ask "Would you mind leaving me a review online?"
If you use an email list to send customers information, consider adding a short call to action in your next email. Ex: "We appreciate your feedback. Would you be willing to rate (business name) on Google and tell us about your experience?"
By following the steps above, you'll have a great chance at pleasing your once angry customer, show potential customers that you care, and move forward to decrease the chance that this will happen again.
Need help improving your website's SEO? I'd love to help. Tell me a little bit about your business and I can send you some free SEO tips today: Jason.Lerblance@mavidea.com