First Federated Church of Peoria's mission: "Making Disciples through worship, as we praise and glorify God; mission, as we embody God's love; fellowship, as we love and care for one another; giving, as we express gratitude to God."

Founded in 1937, First Federated Church has been a dedicated and consistent presence in the Peoria community. They are proud of their ongoing efforts to reach out to their community through missions. On Sundays, they have two services as well as separate activities for children and youth.
It was important to First Federated Church that their website was a welcoming place for new, current, and curious church visitors to find the information they needed about the church and their weekly activities.
Before
The primary reason First Federated Church needed a new site was that the previous design was becoming dated and the overall dark feel of the site was not as inviting as they wanted.
After choosing Mavidea for the new website design, they began the process of building a website with Mavidea - which starts with a "mega meeting". The purpose of the mega meeting is to help you think beyond the design of your site, and think about how together, we can leverage your site to grow your organization/business.
After hearing their vision, we got to work building their new website!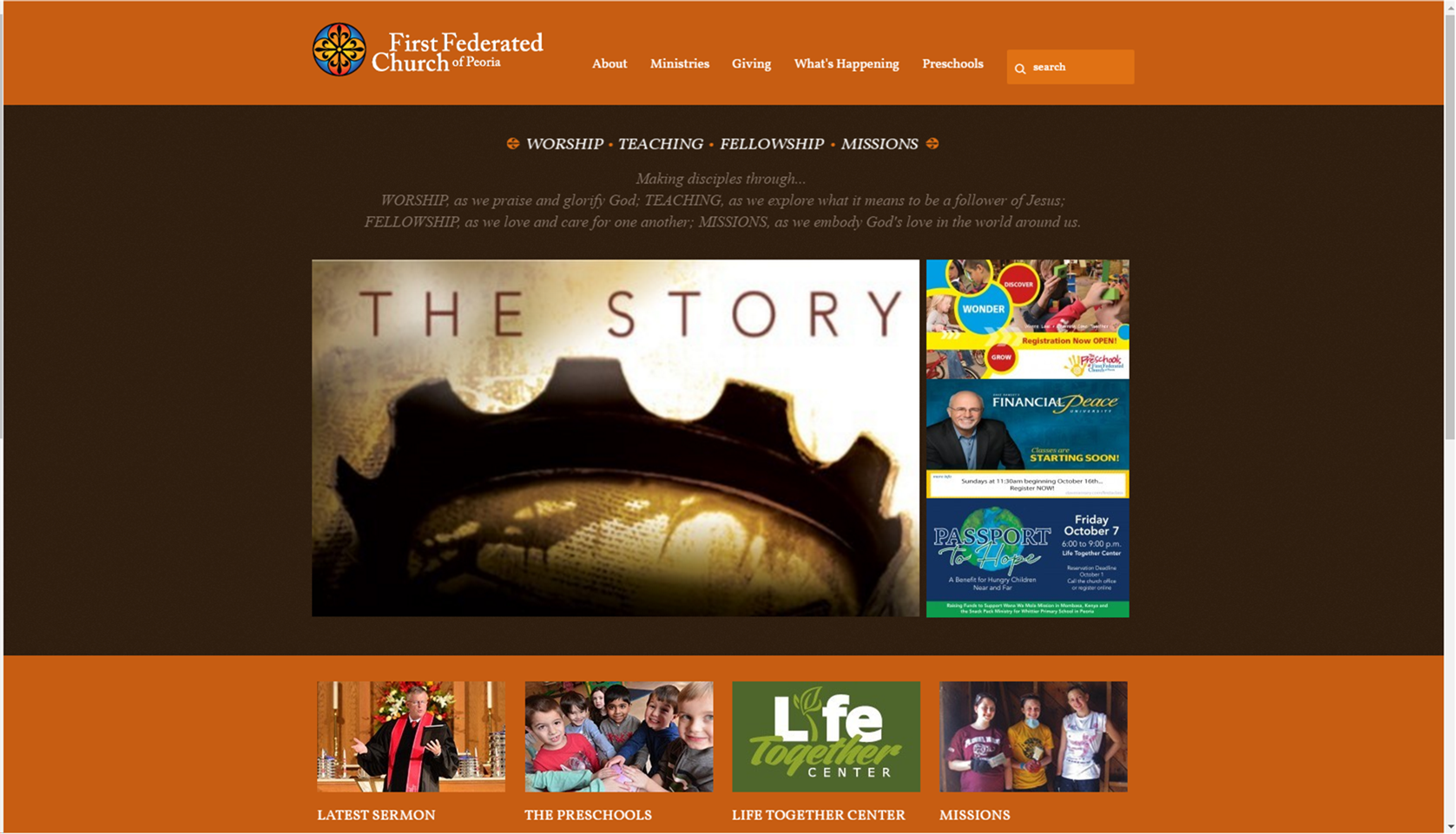 After
The new site is bright, clean, and uses a lot of natural colors. Their beautiful church building is the background on the homepage. The orange call outs take your eyes directly to the service times and location.
We implemented a hamburger menu and reorganized the content. A hamburger menu allows for a lot of content, without compromising a clean and attractive homepage.
Before reorganizing the content, we spent time with them in order to understand the areas they wanted site visitors to see first. From that meeting, we created the three primary top buttons "I'm New", "Services", and "Give". Primary buttons are an excellent complement to a hamburger menu, as they provide a way to focus on core areas, and also create space for additional content.
Desktop & Laptop