There aren't many things that surprise me in today's social media-enabled world, but I found myself speechless (which isn't done easily) after talking to Mavidea Web Designer, Michael Guarienti.
We were discussing business websites and how companies can get the best website while taking their time and budget into consideration. "All things considered, your business website design isn't that important," Michael said.
What!?
How could a web designer say that design isn't that important?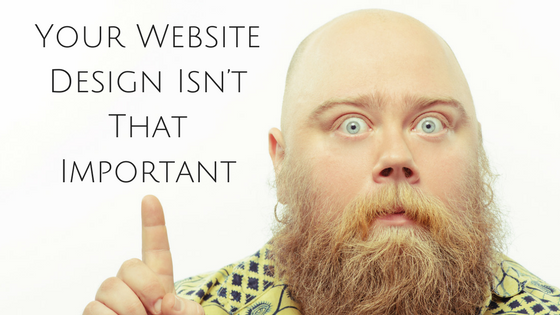 Function over Beauty
Before going too far into the belief that design doesn't matter at all, let me clarify something as I understood it from Michael. The design of a company's website matters A LOT, but it's the functionality of the design that matters more than the bells and whistles attached to it.
Like the classic acronym KISS (Keep It Simple Stupid), sometimes it's better to go simple than over-complicate things, including website design. It's hard for me to accept the fact that design for a website is more about being simple than it is cutting edge, but we build websites for a specific audience – our customers.
Think of your website's design as the frame of a car. It can be state-of-the-art and truly one of a kind, but if it's too unique to function and no one can use it, then it's completely useless.
The design allows the website to function, but it's the content that drives the website and will determine how far it can go in accomplishing your goals.
It's All About Content
When a customer searches online for a product that your company offers, your site's design will play a very small role in how well your company ranks on Google for that product. It's the content within your website that will determine how well you rank (along with your SEO efforts). Once someone visits your website, the design does matter, but only in guiding your visitor to the right information, which will hopefully lead them to make a purchase or contact you for more information.
Your website design should function smoothly and carry visitors to the important stuff - your services/products. A well designed website is one where the design is fluid, modern, and delivers customers to their destination without any glitches.
Homework:
Ask a friend or colleague to visit your website - afterwards, ask them if it was easy to navigate, how long it took to load, and did it give a good first impression of your business.
Google a few of the primary services you offer - do you rank on the first page?
If those questions received less than positive answers, you need to reevaluate how functional your website design is and if there is too much emphasis on design, and not enough on the content.
Ready to take the next step and see how Mavidea can build a better and more effective website for your business? Schedule a short call with us today.