About Champaign Heating & Air: With over 40 years of combined experience on staff, Champaign Heating & Air is proud to serve Central Illinois, including the cities of Champaign, Urbana, Savoy and surrounding areas. They specialize in residential home comfort solutions, commercial heating, air conditioning, ventilation, refrigeration, and draft beer systems.

Before
Champaign Heating & Air has been a part of the Mavidea website family for several years. We designed their previous website in 2013, and it was time for a redesign!
Technology is moving fast, Google is constantly changing their algorithm, and the growth of mobile is staggering. That's why we recommend sites be redesigned regularly (every 2-3 years) in order to stay inline with technology.
Specifically, a mobile site has gone from a "nice to have" a couple years ago, to a "must have" today. If you don't have a mobile site for your website, you need to call us today!
Take the mobile test - open your website on your mobile phone, do you have to squint to read the content? Or pinch the content to enlarge it to read? If so, your site is NOT mobile friendly.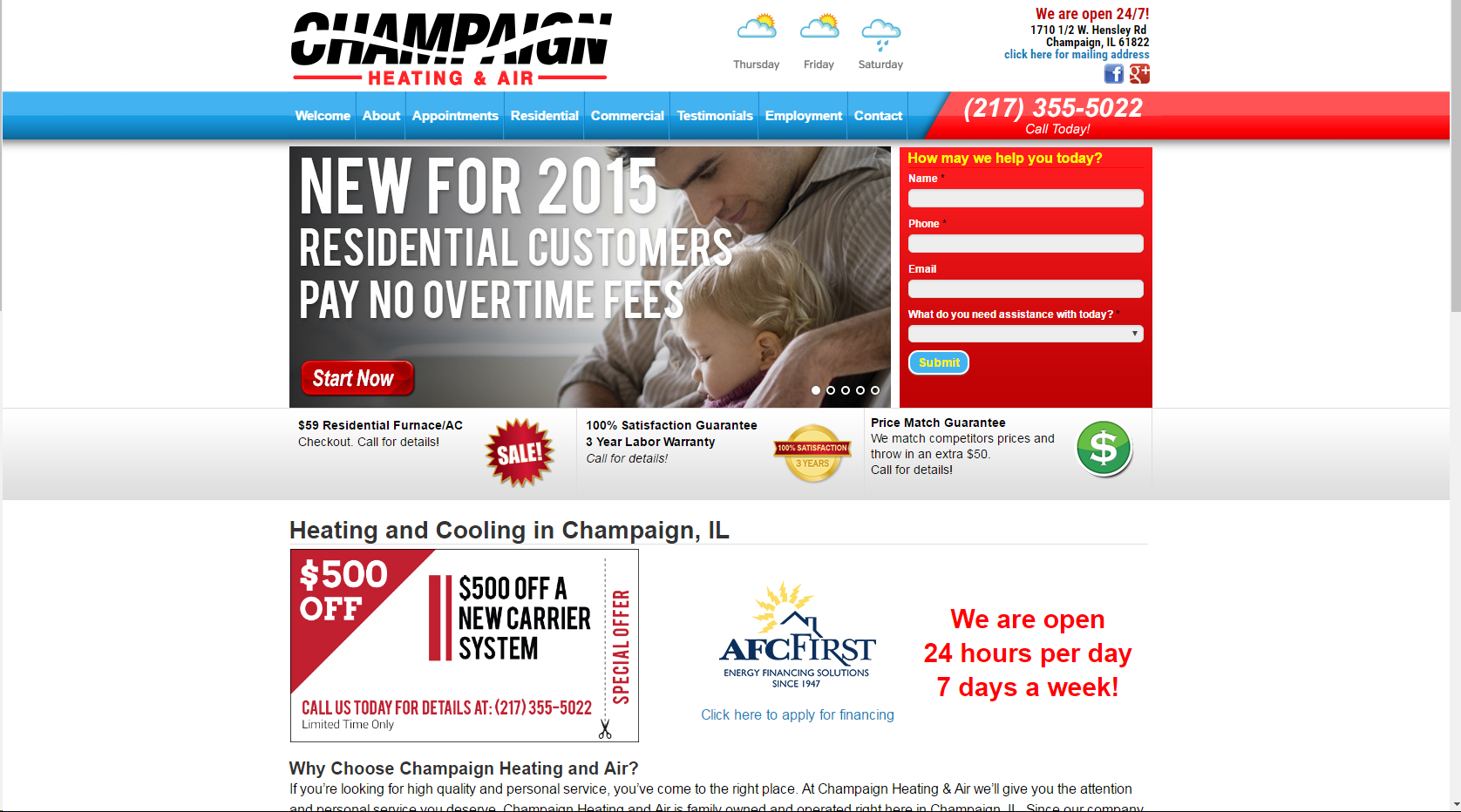 After
Their updated website includes branding elements such as the red and white swoosh through the homepage that is similar to their logo.
Also, we used a homepage image that shows a family enjoying the comfort of their home. This is the best way to communicate what your services are about to visitors! Most customers do not care what model air conditioner you carry, they only care that you can provide them cool air to enjoy in a comfortable home.
Their website is responsive and mobile, is built on WordPress, and includes ongoing support and maintenance for all creative/technical needs they have.
Mavidea websites are zero down with zero startup fees.
Our monthly website packages are the entire package! They include your website design/development and the ongoing support each month. NO SURPRISES and no hidden costs.