Vulcan Equipment helps farmers get better results through their innovative products, which include the ZoneMaster, Schlueter Harrow, and Roll Boss 48".
While they're a relatively new business, founded in 2014, Vulcan Equipment has an experienced and well-known team that is also involved in their sister company, Slagel Manufacturing. They did have a website for their company, but it functioned more as a placeholder rather than an online home for their growing business, which is what they wanted.
The Vulcan Equipment team chose Mavidea to create a user-friendly and attractive website where current and potential customers could learn about their products and company, and contact them to make a purchase or to find a dealer.

Before
Visitors to the original Vulcan Equipment website were not finding the information they needed. The website was also hard to update and didn't properly represent their brand. There was very little content and someone visiting the site for the first time would have a hard time understanding the value the company could bring to their farm and operations.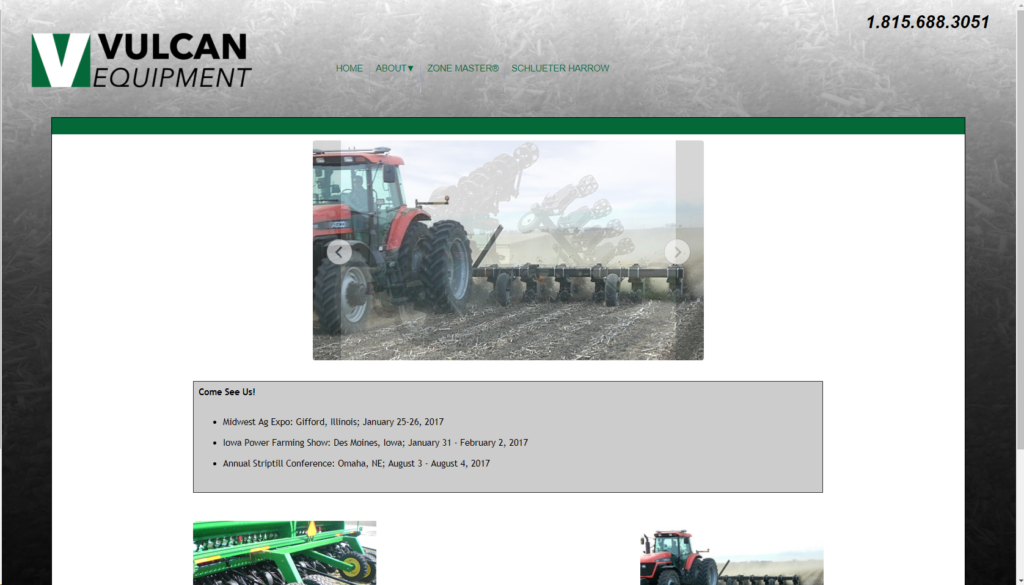 After
Before building their new website, Mavidea sat down with the Vulcan team to learn about their company and their customers. During this discussion, one of the many things we learned, was that their customers often asked the same questions about their products. Our Content Advisor worked with their team to develop a list of questions that a potential customer may have, and answers to those questions. Each product page now has a FAQ section at the bottom of the page to offer quick and direct pieces of information to site visitors.
The new website has an instant impression on visitors with an attractive video of their products in action and clear navigation tabs. The format of the site gives visitors a clear understanding of what the company is and how what they provide help farmers around the country. The new website also features a blog where the Vulcan Equipment team can share information and tips with farmers. Check out their new website at VulcanEquip.com.