Put your winter jacket back in the closet and get outside to enjoy the weather – spring is here! You can't drive a mile without seeing people jogging, biking, and even sunbathing if you're close to a university like we are here in Bloomington/Normal, IL.
Like the sun coming out in spring and people flocking outside, your website can bring out new customers with a little spring cleaning. Here are eight things on your website worth cleaning up today.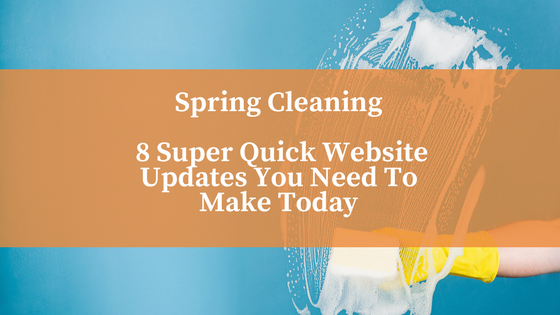 404 errors
Errors on your website lead visitors to dead ends and hurt your chances of ranking highly on Google. Run a quick error search on your website on a site like brokenlinkcheck.com and replace or remove broken links.
Website content
When's the last time you took a look at your about page? If you can't remember, it's probably time to update. Take a few minutes to read through each page and make changes as needed. If you want to check your site for spelling and grammar errors, copy and paste your text into Grammarly. And if you need help sprucing up your site's content, consider working with a copywriter.
Forms
The forms on your website, from newsletter signup to contact and quote request forms, are what converts a visitor into a lead or customer. But, you have to handle this process carefully. Simply forgetting to email someone back or waiting too long to respond can ruin any potential benefit you would've gained.
Review the forms on your website, who is handling, how you're responding, and any related statistics. A small change here for the better could have a big impact on your business since many potential customers get lost in the shuffle of a poorly executed form process.
Update your email subscription list
Your email list needs to be updated to add new subscribers, remove incorrect email addresses, and to see what's working and what's not. Depending on the software you use, you can see when and why people are unsubscribing and make changes to grow your list. And if you have a few extra minutes to spare, send an update to your list to share any valuable information with them (discounts, blog posts, etc.).
If you don't have an email list, consider creating one to engage visitors with your brand. Check out MailChimp or Constant Contact to help manage your email list.
Change passwords
Don't get hacked! Take 5 minutes to change your passwords and make sure they are unique. Whether online or offline, keep your password information in a secure place. Consider using a password management tool like LastPass.
Remove ghost town social media accounts
A ghost town platform is a social media account that you rarely or no longer use. If you haven't posted on your company's Facebook or Twitter page in months, it's better to remove the account than leave it up without any posts. If you do plan to start posting again, take a few minutes to make a post on each channel.
What year is it?
"Copyright 2012." Have you scrolled to the bottom of your website lately? Take a quick look to see what year is listed at the bottom of your website in your website's copyright. This should be updated yearly.
Pics
Don't let outdated pictures of you and your team or old stock images send the wrong message. Look at the images on your website as if you're a new visitor, and update these based on what best appeals to your customers.
Refresh your website with Mavidea – we're here to help. From full website redesigns to refreshing the look and feel of your online presence, Mavidea can help you bring in more visitors and convert them into loyal customers. Email adviser@mavidea.com or fill out our form to get started.
Subscribe to Blog via Email