While some websites are beyond repair, no website, even the great ones, are without room for improvement. Whether you're ready to throw your website in your desktop's wastebasket or enter it into the Webby Awards, there are steps you can take today to improve your website.
We understand small business struggles – you wear many hats and you have a limited budget to work with. What you can't afford to do is neglect your online image and opportunities to virtually connect with your customers.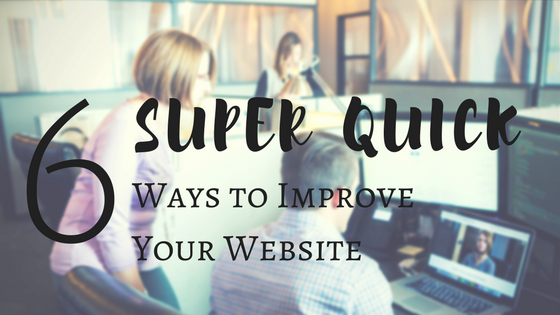 Wherever you are with your website and your business, here are six ways you can dramatically improve your current website quickly:
Get Rid of Outdated Content
There is nothing that screams "you can't trust me!" like outdated content on a website. A service you don't provide anymore, an old phone number, a bad address, past employees, links to social media pages you haven't posted on in a year, etc.
Go through each page of your website on a regular basis to clean and update the content.
Use Second Person
Your website needs to be about the customer and how your service/product can help them, not you! Read through your content -- if it's written in first-person, then rewrite it so you are talking to your clients and readers at least 3x as often as you're talking about yourself. Instead of "Jones Supply Co. has the experience and talent to deliver what our customers want," write "We have the solutions to fulfill your specific supply needs."
Add a Call to Action
If you don't ask for it, you won't get it. Each page of content on your website should conclude with a call to action – something that tells your visitor what they should do next. Visitors do not want to search for your contact information or guess which page they should go to next. Make it easily available to them with a clear call to action at the bottom of every page.
Example: "Make sure your website is meeting the needs of your customers! Call Mavidea today to start your new website! 888-898-8960"
Real Pictures
Stock images are easy to find online, but they often lack personality and don't show the unique character of your business. Include real pictures of your office, clients, staff etc. – visitors want to see who you are. Visitors love a Meet the Team page…it makes them feel more comfortable working with your company.
De-Clutter
There was a time when stuffing your website full of keywords was more important than writing engaging content that was both enjoyable and informative. Your visitors do not want to sort through five paragraphs of detailed information on your product or service. Create small paragraphs of highly useful information and leave the cluttered text behind.
Website visitors skim through online content - so make it really easy for them by using at least size 12 font and small blocks of content (2-4 sentences).
Social Proof
Seeing is believing. If you have any semi-active social accounts, add them to your homepage. These social sites allow visitors to get to know you and add to your credibility. If you don't have access to add these to your homepage then add links to them at the bottom of your content pages – an easy short term fix.
Example: "Check us out on Facebook!"
You can also add testimonials to show visitors how much past customers have enjoyed working with you.
It All Leads to Your Website
All of your marketing efforts lead back to your website. Take these tips and apply them to your website to get more business today. The 20 or 30 minutes you spend making these updates will help visitors spend more time on your website, find what they need, and build trust with your business.
Unable to make ANY edits to your current site? Is your site not even worth updating? Call Mavidea today to get a new website for your business for as low as $199/month.
Subscribe to Blog via Email