At a place where the CEO often raps over the intercom and appears in costume at company meetings, it's not surprising that having fun is part of a day's work at Mavidea.
But a happy work atmosphere is only a reflection of a deeper spirit of serving others that is a central part of the purpose statement at Mavidea. In a quest to more ultimately fulfill on this purpose, Mavidea CEO, Erik Barnlund, became involved in the Shoop/SHIFT program lead by Emilie Shoop, Creator and Leader of Shoop Training and Consulting. Awards were presented during the recent Lead Any Team workshop hosted in Bloomington.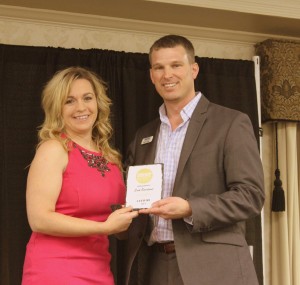 Shoop explains, "The Shoop Shift Award recognizes outstanding members in the community that are using people skills to make a difference in the cultures of their organization and in the community."  The awards are given to an individual in the categories of Clarity, Connection, Communication, Coaching, Conflict, and Culture. Each category is a key component to what Shoop teaches and coaches businesses on: The Shoop Shift: 6 Gears to Revolutionize Your Culture, Team, and Leadership.
Making the shift to exceptional leadership
According to Shoop, "These exceptional leaders have shifted their organizations and the community by being people-focused. People work hard for those they know, like, and trust. Each of these leaders is passionate about creating relationships and workplaces that foster trust, commitment and empowerment."
Emilie works with business leaders "who are ready for that next level of success and realize how they work with people is key." The Shoop/SHIFT program supports corporate leaders in pursuing the 6 C's of strengthening organizational health. One of those 6 C's is Culture.
Recognizing a culture of service
When it came to selecting a company that best represents the achievement of a vital and service-oriented business culture, Shoop selected Mavidea. Barnlund noted, "Emilie has observed us for a few years now. To be recognized for the culture inside our company is the ultimate compliment. We put great emphasis on developing a culture where our employees have fun and truly enjoy serving our fellow team members, clients, families and community each day."
Another criteria that made Mavidea stand out is that Shoop noted that Mavidea has built something very specific in terms of culture and that she sees it coming across consistently at all levels of the company.
"Not only do they say culture is important, they do something about it.  Taking it a step forward they don't just do something once or twice a year, they lead with the culture in mind," Shoop states.
The Mavidea Culture Club experience
She continues, "Working with Erik outside of Mavidea, he often shares his experiences with his team and explores how focusing on the culture has helped them. Mavidea has a Culture Club to focus on making sure the culture is on target.  The leadership team asks AND listens to the feedback they get from the staff and implements change accordingly."
"We believe our statement of purpose should be a living document within our organization. We plan to build this into a culture guide for Mavidea."
When you go to their office everyone you interact with is engaged and focused on helping you, the guest in the office. They have many activities inside and outside the office that promote a team spirit, from decorating cube contests, to wiffle ball, to all dressing like elves at the Christmas party. It is one thing for a leader to say culture is important…it's another thing to be able to walk in and experience it."
A recent survey of team members -- which the company calls, Mavideans -- supports the passion of the company's employees for the organization and their joy in serving Mavidea customers.
A total team effort
"It's a total team effort," Barnlund states. "Without alignment from everyone involved and being convicted by the same goals, our culture would not be possible."
According to Shoop, "Erik summed it up very well when he received his award. Be intentional.  You have a culture of your organization whether you focus on it or not. However, if you are intentional on the culture you want to create, you will reap the rewards."
Barnlund invites other small and medium business leaders who are interested in building a company culture of service to contact him at Mavidea.
What are you doing to enhance your business's culture? We are always looking for new ideas!