Last week we discussed how to sell your services without talking about them. Today we'll take a look at another approach, but start you off with an extremely complicated and complex (just kidding) question to introduce the idea. Here goes: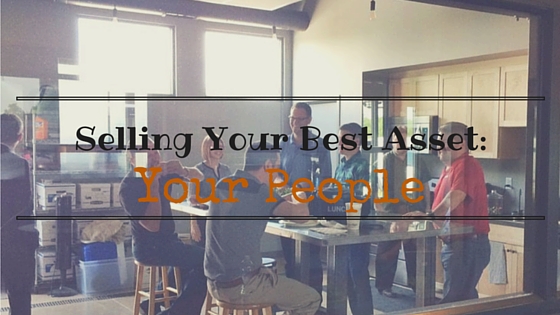 Company A and Company B are both based in the same city. They sell similar products at a nearly identical price. Company B consistently outperforms Company A. How?
While this sounds like a question you might encounter while taking a multiple choice, it's also a real-world business issue with a real simple answer.
That answer? Company B has better people. We all know that great employees are one of the keys to a great business, but far fewer remember that their employees, their people, can be a company's best asset. Not only do employees keep the business moving, but they are one of your best differentiators as well! When selling the product, you're also selling your employees' ability to guarantee great service, satisfaction, and results.
Let's look at an example.
Last month, a customer called Company B with a question. A customer service rep. named Joe took the call. Their conversation was succinct, helpful, and valuable, and the customer left satisfied. A month later, the same customer upgraded their product following their positive experience working with Joe. One short call with Joe, the best customer service rep. in the business, led to a new sale. Good for the customer, good for Joe, and good for Company B.
But how do you sell your people if the customer hasn't worked with them yet?
The first step is introducing your people to the customer. This can be done in a number of ways, but one of our favorites is a simple "Meet the Team" page, one complete with photos, accomplishments, accolades, and interesting facts. This helps make the company and its employees seem more solid and approachable. Other concepts involve sharing company and employee success stories, detailing instances in which employees went above and beyond to help a customer in a significant way. Of course, you shouldn't feel limited to passive approaches like those above. One of the most successful methods of introducing and selling your people is actively participating in the community, especially if you do a lot of your work locally. Positive community involvement of nearly any type not only showcases the talents of your employees, but demonstrates the values of your business as well.
Don't stop selling your product
Begin selling your people as a differentiator! Joe is the best customer service rep. in town. Make sure the customer knows that when they buy, they get more than just the product; they get Joe's support as well.
Do you have great employees? Is John great at fixing gadgets? The customer should know that any gadget they send to John will be fixed quickly and competently, because John is just that good. As a company, your people are your best assets. Take advantage of that.
Other great articles…
Maintaining Our Culture as We Grow
Blogging about You, Without Talking about You…
Subscribe to Blog via Email