The last thing I knew it was April. I blinked, and here we are starting 2017. It's an interesting time in the world, in our nation -- and probably inside your business.
The challenges of this year make me realize the importance of appreciating those elements of stability that support our journey forward.
First and foremost to the leaders and business owners, the people that support us in our position of leadership.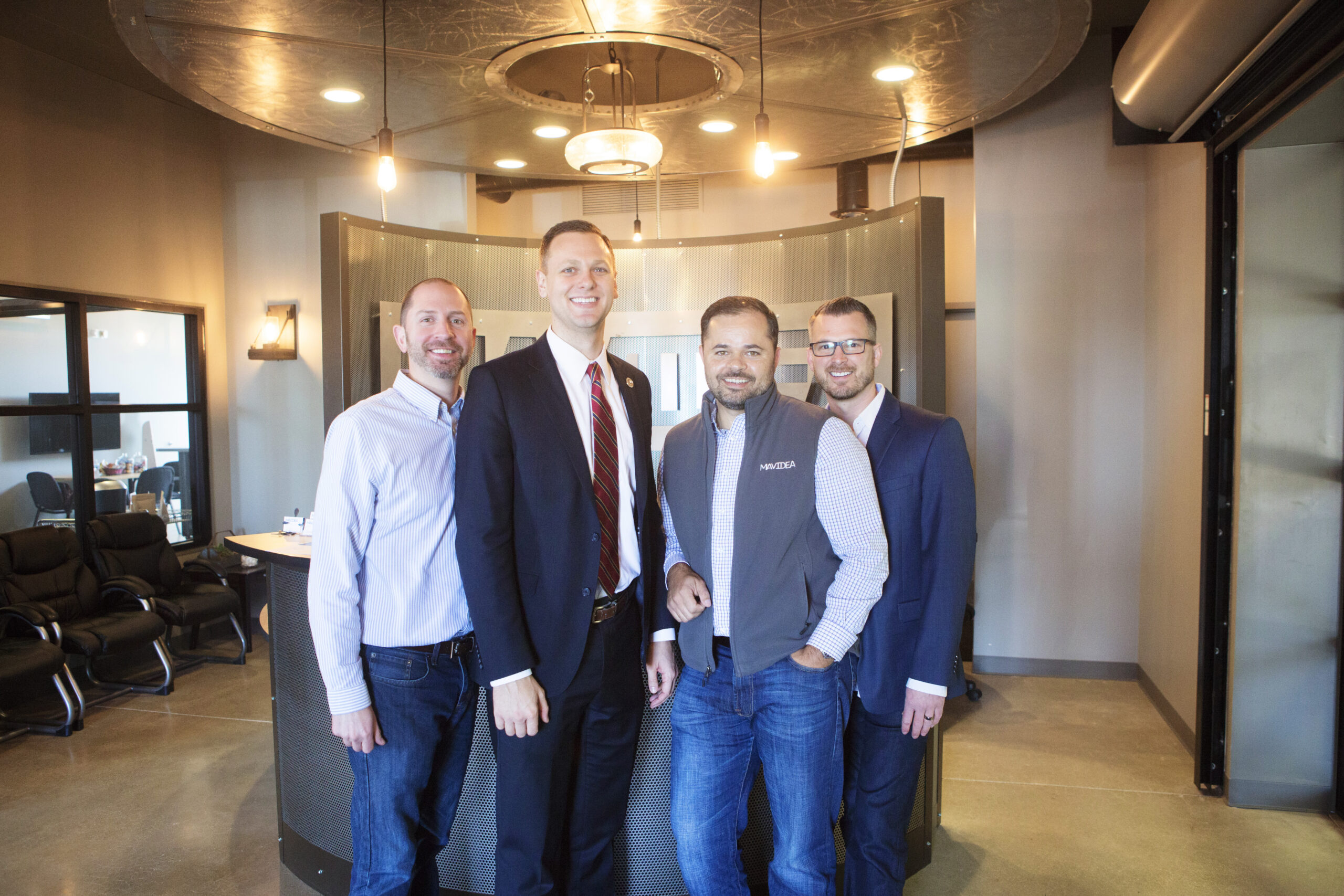 With gratitude for great partners
I heard a quote recently that said, "It's really hard to stop a great team."
That comment might be easy to underestimate, but when I think about the year that is coming to an end, I can't help but celebrate the teams I'm on.
What a blessing it is to have those people in my life!
As a person with more weaknesses than strengths, I relish the fact that I have the support of individuals like my business partners. Their friendship, guidance and insight make up for those many areas where I still have room for improvement.
I appreciate the way these men support me and will come to my aid in a moment's notice.
It's such a reassuring thing to know that I'm not in this alone. It's a powerful reassurance to have their advice, counsel and assistance in every critical situation.
So, to Jake, Jamie, Mike and Arnold (not pictured), I owe you a huge debt of thanks.
A salute to a world-class Mavidea team
I also want to step back and reflect on the incredible team we have at Mavidea. Without them, there is no service to our clients. And without those services, our business would not exist.
I see and hear on a regular basis about sharp-thinking Mavideans who stepped up and took care of a situation or client.  These hard-working team members genuinely care about the relationships we sustain with the people we serve.
They care deeply.
It shows every time they go the distance to serve our clients' service requests.
We're so blessed to have a world-class team at Mavidea.
To each and every Mavidean, thank you for all you do on a daily basis. I thank you and our clients thank you.
A sincere appreciation to our valued clients
In 2016, we worked very hard to better understand our clients. We set high goals to better identify the kind of services our customers need. We focused on finding new strategies that could exponentially add value to their businesses and organizations.
We've made tremendous improvements in many areas. And feel we are prepared to be an even more amazing partner with the clients we welcome to the Mavidea family.
We listen closely to what our current clients have told us. And put that insight into creating great work and finding new solutions.
Many of our clients contributed to these improvements and don't know their voice was heard.
If you are a client, I want you to know we put great value on every word you shared with us and we're better because of it. I thank you for your continued business with our company and we promise to continue to increase the value we bring to you and your company.
We look forward to all the new clients we will meet in 2017 -- and all the individuals and businesses with whom we'll start or further relationships.
I can't wait to hear your positive feedback and stories of your success.
A tribute of thanks to our financial partners
The chain of gratitude extends to our banking partners, vendors and accountants. The list of these individuals is long, but I want to be sure and recognize Steve Timmermann and his team at First Farmers State Bank and William Dorsey at Packard and Associates for the intimate and long-standing role you have held with Mavidea.
We wouldn't be here without you, and I want to thank you for that.
A strong bond of love and thanks to my family
For me personally, the core strength behind all my life and accomplishments begins with and is centered on my wife and children.
Without your support each day when I leave and when I come home, I would be an empty man. Everything I do, I do for you guys. I hope you know how much I love you.
Blessings grow in the friendships we share
As I consider this year's list of people for whom we are grateful, it might bring to mind people who play equally important roles in your own life or business.
Whether it's been a great year for you, or a challenging one, I invite you to take a moment to reflect on the ways the people who surround you have blessed your life.
Tell them. Pour into them. Do something nice for them.
Those are the relationships that are going to help you tackle your life.
Each one is a blessing. And they would love to hear that from you. Finally, but most importantly, I want to thank the most important person in my life.
That's Jesus Christ.
I mess up a bunch. And I can't believe that he loves me the way he does. He forgives me each and every time.
I vow to become a better steward of the blessings he's gifted me. I promise to share the way he's changed my life with others. This world would be a lot better place if we would just love one another.
As we close 2016, and charge into 2017, I encourage you to share your love with the people who came to mind while reading this message.
God bless you and yours.
Erik Barnlund, CEO
Subscribe to Blog via Email