Bob Burg has done it again with his book, Endless Referrals.
This great book is filled with tips on how to improve networking events to be more meaningful and profitable.  He explains how to earn people's trust, which has a direct correlation with gaining more professional referrals.
He goes on to say "All things being equal, people will do business with and refer business to those they know, like, and trust."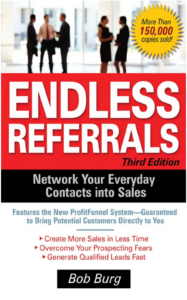 Burg references that everyone has a sphere of influence of roughly 250 people.  Out of those 250 people, do they know what you do and what a good prospect for you looks like?  If not, make sure you take time to share that information as well as learn their line of work.
Professionally and personally, I have learned the importance of earnestly caring for others.  This lesson goes hand in hand with another key message from Burg's book,"People don't care how much you know until they know how much you care—about them and their problems."
Have you ever been the person in the corner of a networking event? Well, now you don't have to be!   In Endless Referrals, Bob Burg prepared questions ideal for networking events!
My favorite question is, "How can I know if someone I'm speaking to is a good prospect for you?"
Here are some additional questions:
What one thing would you do with your business if you knew you could not fail?
What advice would you give someone just starting in your type of business?
What separates you and your company from your competition?
What do you enjoy most about what you do?
How did you get started in the industry?
What motivates you the most?
What do you enjoy most about your profession?
What are your projections for growth within the next 6-12 months?
When can I set a time to meet with you and learn how we may be able to work with one another?
Thanks for reading!
Similar articles...
Are You Still Using Yellow Pages to Promote Your Business?
Death by Meeting by Patrick Lencioni
Subscribe to Blog via Email