Hi, my name is Chris and I like gadgets and gizmos.
I'm not saying that's bad, just stating a fact so you can understand when Apple released their new watch I preordered it.  I guess I'm not that bad because I waited till the following morning rather than getting up at midnight.  I have owned a Pebble, Nike Fuel Band, Microsoft Band and now I have the Apple Watch.  I have enjoyed each of these devices in turn, though some more than others.  I like seeing where wearables are heading and each new thing has gotten better and better.  Are they necessary things?  Not at all, but in the years to come the arguments against them will trickle to practically nothing more than are you willing to pay for them.
Pebble and MS Band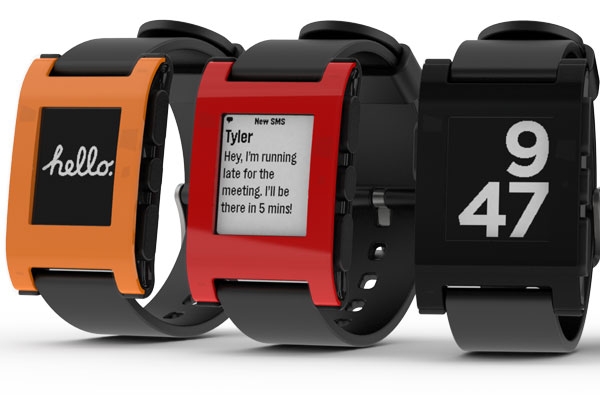 Since I have already talked about the Pebble and MS Band in previous posts I'll just very quickly go over what I liked and didn't about them then get on to the Apple Watch.  I'm not going to talk about the Fuel Band since it is just a fitness tracker and Nike doesn't make them anymore.  I am also not going to comment on battery life except to say that it's fine on all of them.  They last comfortably all day, and unless you are traveling and have to take cords for 50 different devices then it's really not a hassle to charge them each night.
The Pebble was the first real smartwatch.  I waited until it was available in stores with the updated and more functional OS before getting one.  It's a great first effort for a wearable.  The watch faces were fun and it delivered texts and caller ID to my wrist.  Limitations are storage, apps, black and white screen, and in the age of touch the button navigation is clunky.  The Microsoft Band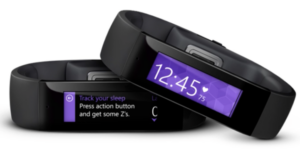 added an interesting (at first) form factor, tons of fitness monitoring, and a color touch screen interface.  The MS Band did everything the Pebble did productivity wise but had a much better interface.  I had a lot of trouble keeping it paired and communicating with my phone, and the band form factor required a lot of scrolling to read messages.  Ultimately this lost its attraction after a couple of weeks.
The Apple Watch
Apple has gone several steps farther and now I can actually DO something with the alerts from the watch.  Let's get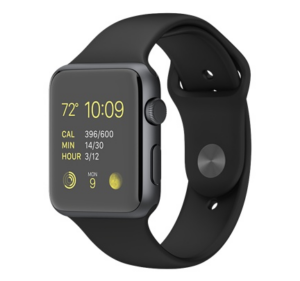 some basics out of the way first like fit, form and function.  I have the 42mm sport with the black sport band.  I have small wrists and it does not look bulky or odd.  I was pleasantly surprised by the weight of it because between how light it is and the comfort of the band I don't notice it's on.  I have had no issues with the screen coming on when I want to check the time, the touch functionality works very well.  There is a small learning curve that results from what gestures do what, but I had the hang of it in a couple days.
5 Stars for Functionality
When I get a text I can reply from the watch, either with a canned response or via voice dictation which works really well.  I can also play Trivia Crack directly from the watch, which I NEVER do discretely during meetings...  I'm finding I use Siri a lot more on the watch than I ever did on my phone.  I just raise the watch and say "Hey Siri…" and she texts, sets reminders, sets timers and with the next update she will be able to do more.  There are already a lot of apps that work on the phone and these will only continue to improve, but I am so far impressed with the first efforts.  Pretty soon apps will be able to run natively on the watch rather than beaming info from the phone which will improve response times.  I have only had it for a couple weeks, but I find myself unconsciously putting it on when I get ready which is a good sign.  I WANT to wear it not just because it's cool, but because I actually use it.
Subscribe to Blog via Email