Website mistakes are a silent business killer. They're so dangerous because the majority of them go unnoticed by the business owner for days, weeks, months, and even years. And just because a visitor to your website doesn't personally point out a problem on your website doesn't mean that it's not having a very real and negative impact on your attempt to gain sales and contacts from visitors.
When seemingly small mistakes wreak havoc on your business' website, visitors are turned off and go elsewhere and you sacrifice website visits, sales, and who knows what else just because of an honest oversight, grammatical error, or broken link.
Here are 10 small but big website mistakes that you might be making, costing you potential sales and getting in the way of building your business and brand:
Mistake 1: It's All About You
You want to explain to every customer why you're great, but is that what they want to know? Even your most loyal customers don't want to just hear about you, they want to know how you will benefit them.
If your website is bragging about your business instead of appealing and speaking directly to your customers, you're making a very common mistake. Every business is at the mercy of what their market needs and wants, and you can't force things down their throat. Act as a steward instead of a salesman and help website visitors understand how your business will serve them and why your products and services are the best solution to answer their wants and needs.
Mistake 2: Picking a Template Before Analyzing Needs
Discount web hosting services have made creating a new website extremely simple and fast. For a few bucks a month, you can choose a template, upload your pictures and content, and publish your website to the world.
What's often missed is that picking a template before analyzing what you need in a website assumes that you can cram what you want to share with your visitors into any design and space, which isn't true. Templates can work well if you're only looking for a simple landing page that doesn't need to be unique or in-depth, but the majority of templates will not be good fits for your business.
Mistake 3: Putting Design Over Content
Make no mistake about it, the content on your website is more important than the design. That being said, if you have broken links, a site that looks like is was created in 1999, and users can't understand how to get to your contact page, it doesn't matter how good your introduction is or your "about" page. When working on the design and flow of your website, don't overlook the importance of the words that will tell your website visitors what you have to offer and those words will also be judged by search engines in ranking your site and how relevant your business is to what someone is searching.
Mistake 4: Mobile-Friendly
Having a website that is mobile-enabled is no longer an option, it's a need, and a large percentage of your visitors will come from mobile browsers. Make sure your website works and looks good even on a small smartphone screen.
Mistake 5: Time
Entrepreneurs have an unlimited number of tasks to complete each day, and little time to accomplish them all. Websites take time to build and manage, and many of the websites we're hired to redesign have been left untouched for months of even years. You need time to update your website weekly and reanalyze your design and content every few months to make sure it's representing your business properly.
Mistake 6: SEO Friendly
Search Engine Optimization (SEO) and having an SEO friendly website are not the same thing. SEO takes additional time and money to boost your website in search rankings. If your business relies heavily on where you place on search engines, make sure you have both an SEO friendly website and are investing in SEO.
Mistake 7: Tracking
Imagine trying to improve how fast you run a mile without timing yourself. Defining and tracking key performance indicators, like website visits, sales, bounce rate, and how many people are submitting contact forms, will allow you to know if you're getting closer to your goals and what's needed to accomplish them.
Mistake 8: A Warm Welcome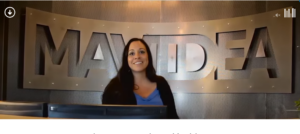 At Mavidea, as soon as you walk in the building, you see Susie's smiling face. Your website needs to give a warm welcome to every visitor. What you want to avoid here is a video or music that starts playing as soon as someone lands on the page. You also want to make sure to say hello and give a short introduction before going into too much detail.
Mistake 9: Visitors Can't Find Contact Information
What good is your website if visitors can't find basic contact information to get in touch with you? Believe it or not, the visibility and placement of your contact information is one of the most important decisions in terms of design and content when creating your website.
For example, when working on a website for a service-based company like an HVAC provider, contact information should be visible from the homepage. Businesses with less reliance on scheduling appointments and phone calls can instead just have a strong contact us page with their address, phone number, email, and social media accounts listed.
Mistake 10: You're Not Frequently Updating Content
Your website is a living representation of your business online. To a website visitor, what they see on your website today will determine their view of your business. If the copyright at the bottom of your page says ©2013, your last blog post was in 2015, and you have old products and services listed that you no longer sell, you're sabotaging your business. Websites should be checked and updated weekly to make sure you're presenting your business properly to visitors.
Let Mavidea find the mistakes that are holding your business and website back! Send your website address to Kim James (kim.james@mavidea.com) and we'll send you personalized ways you can improve your website in less than a week.
Ready to put your website in the capable hands of our professionals? Contact Mavidea today!