There's nothing like a day at the spa. To help more people enjoy the health benefits of being pampered and cared for by professionals, we designed a brand new MavideaSITE pro website for Release Spa Studio.
Release Spa Studio, owned by Brooke Forbes, is located in Naperville, Illinois and has been serving the greater Naperville area since 2010. Brooke and her business now specialize exclusively in JFB Myofascial Release, which is an advanced technique for restoring motion, releasing tightness, and shedding layers of emotional and physical traumas.

Before
The original Release Spa Studio website served as a place where visitors could gain general information about the business, but it no longer represented the business. Like most small businesses, Release Spa Studio has grown along with the owner, who has gained new skills and found a passion for providing Myofascial Release.
Refreshing the brand to reflect this new focus and the quality services she provides clients included having a new logo created, website content written, and a new website, which we took great pride in creating.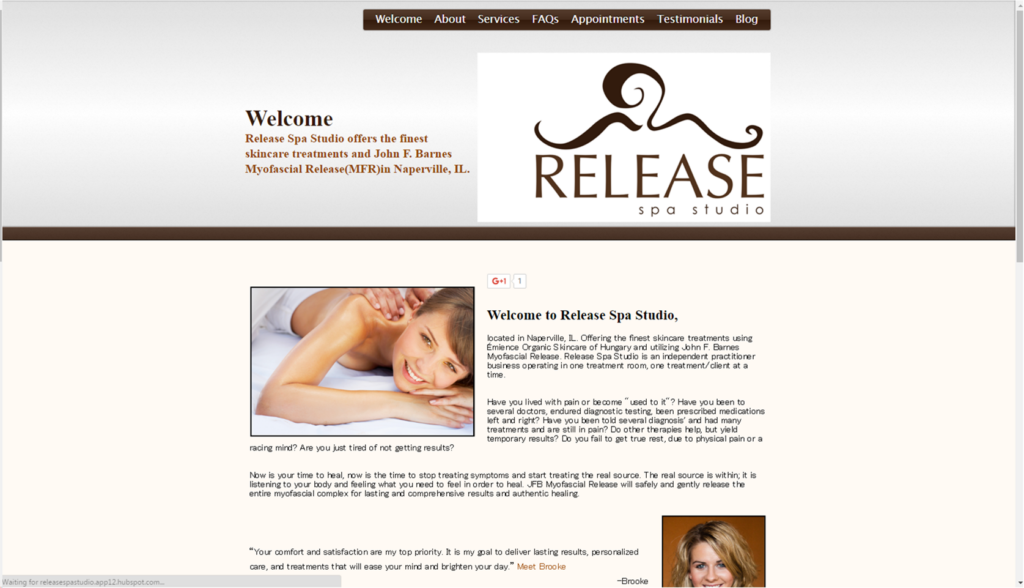 After
The new Release Spa Studio website is user-friendly and uses large, attractive images to guide the visitor to the information they're looking for. With clear labels and buttons, visitors can now quickly find the service they're looking for, from Myofascial Release to sensitive skin waxing, and click on the image to get specific details and pricing information.
The new site also breaks up text to balance the content and make it easier for visitors to read. The homepage content explains the benefits Release Spa Studio has to offer clients and leads them to a clear call to action, which is to schedule an appointment. To learn more about Release Spa Studio, and to get the full feel of their new website, visit ReleaseSpaStudio.com.
Desktop & Laptop