Clutter, whether on your desk or in your head can slow down your work and productivity. Organize My Clutter specializes in removing the clutter in our lives to help us get more out of our work in both our work lives and personal. Since 2008, Organize My Clutter has served Central Illinois, including Bloomington, Champaign, Decatur, Springfield, and beyond.

Services include:
Purge Pal & Downsizing
Whole Home Organizing
Home Staging
Packing / Unpacking
Heritage & Legacy Organizing
Photos & Memorabilia Organizing
Paper & Financial Organizing
Here at Mavidea, decluttering is a big part of what we do for clients for their website, SEO, and IT services. For Organize My Clutter, Mavidea created a new website to effectively present important information in an engaging way to visitors with clear calls to action, telling them where to go on the site to get what they need.
Before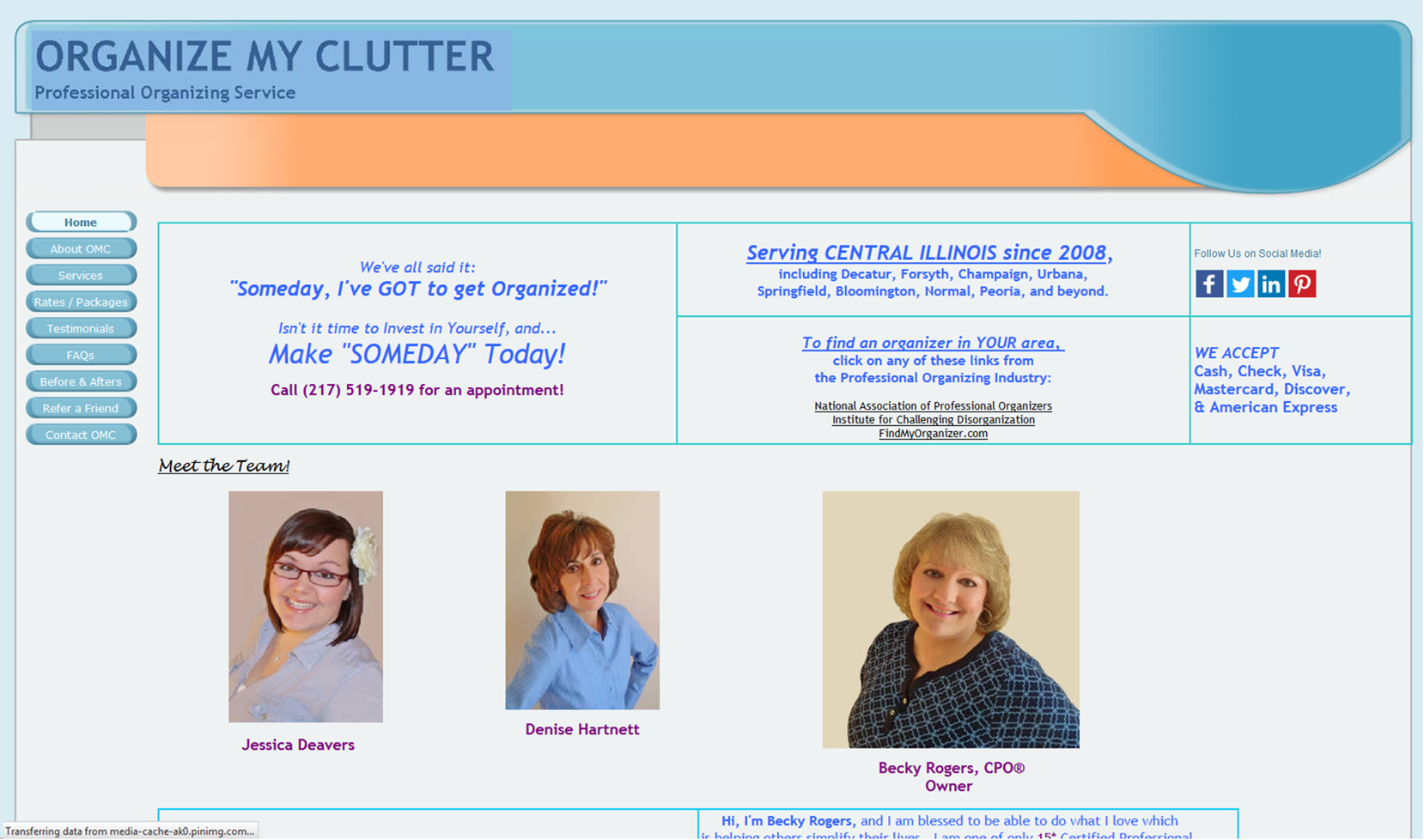 The original Organize My Clutter website was created on a basic template that didn't properly organize the information they had to offer. Although contact information was clearly presented, first-time visitors were not sure where to go after landing on the homepage.  The design of the old website was also not mobile-friendly.
After
After learning more about their business and what their customers wanted, we took on the fun challenge of creating a new and well-organized website for Organize My Clutter.
Their new site is mobile-friendly, has clear calls to action, and helps each visitor find what they need quickly and easily. The site brings out the brand behind the business, led by an octopus mascot because they have many extra hands available to help people who need one (or two).
Under the homepage header and introduction text, the "packages" button is displayed to lead the visitor to information about what's included in each package and their rates. To see more, we encourage you to check out their new website at OrganizeMyClutter.com.
Desktop & Laptop