Lakewood Family Dental is a growing team of friendly dentists, associates, and staff who treat patients like their own families. The company has expanded significantly over the past five years, and now has five locations. They have offices in Bloomington, Illinois, Fort Wayne, Lafayette, Anderson, and Carmel, Indiana.
Their website plays an important role in reaching new patients in each of their five locations. It also serves as their online reception desk, allowing new and existing patients to schedule appointments, learn about their services and find additional information that will help them determine if Lakewood Family Dental is the right fit for their family.

Before
The Lakewood Family Dental website was created before their expansion into new locations. It was better suited for a single-location practice. There were also sections of the previous website that were no longer being used, and a new design that would better reflect their current brand was needed.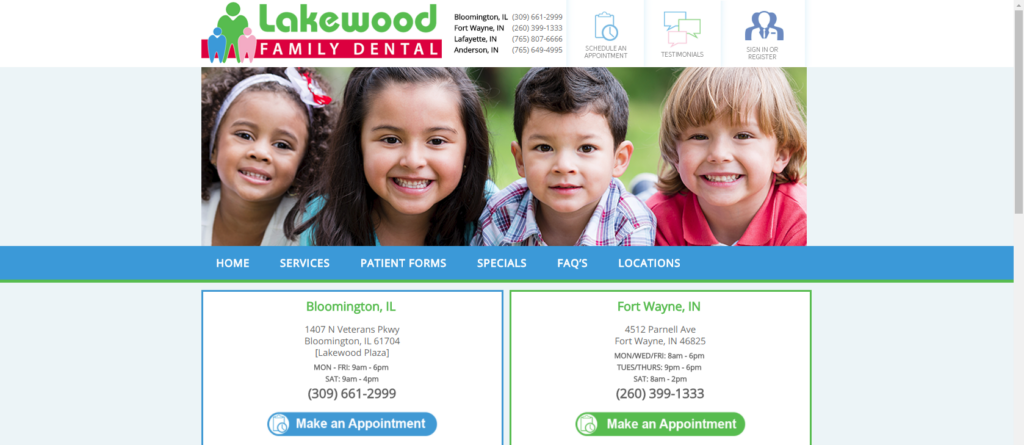 After
The Lakewood Family Dental team worked with Mavidea to redesign their website. The new website has landing pages for each of their five locations that help the individual offices rank in local search engine results. Because of our familiarity with the business and their needs, having created the previous site, we were able to keep their current SEO results stable while improving the impact their pages and web content have on search rankings.
When creating the new site, our graphic designer created new custom icons that get the attention of visitors to help them easily find the information they need. Our developer also created a new navigation menu that organizes the pages of the website in one spot on the homepage to make navigating the site much easier and faster.
The new Lakewood Family Dental website also includes a new patient portal page. The patient portal gives patients the ability to access and manage their accounts online, making paying bills and providing updates simple for both the patients and the Lakewood Family Dental.
See the new Lakewood Family Dental website at www.lakewood-familydental.com.