House's Services, based in Bloomington, offers residential and commercial appliance repairs and maintenance throughout Central Illinois, including electrical and HVAC.
Founder Shawn House and his team create strong relationships with their customers and offer ongoing maintenance plans. Their website is a key aspect of their business as the majority of their prospective customers visit the website before calling or scheduling an appointment. Customers can also schedule appointments immediately on House's Services website.

Before
Looking at the previous design and content several years after building the original website, our team at Mavidea saw room for improvement in the look, feel, and function of the site.
Shawn agreed, and also saw the redesign as an opportunity to present a more user-friendly design with clear content and calls to action. Sean wanted to make sure that customers could easily find the information they are looking for and to schedule an appointment on his website.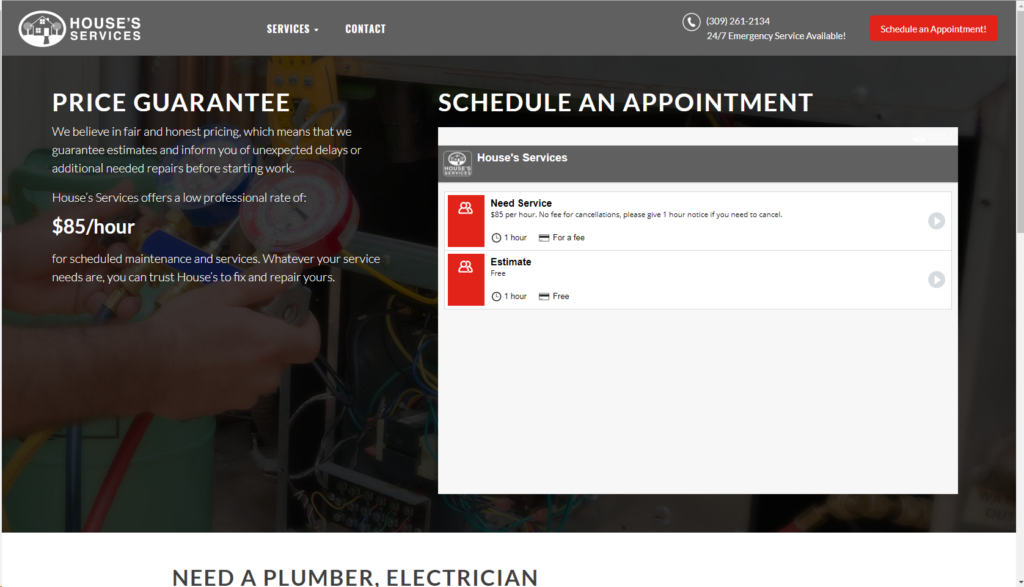 After
Working with Founder Shawn House, we recently redesigned Housesservices.com. We designed the previous website, which is an advantage when it comes to redesigning a new site. We are able to build off of the previous foundation we built while retaining the site's strong SEO base, preventing a dip in traffic after the new site launch.
The new design is brighter, easier to understand and navigate, and has a more personal, yet professional, touch. The new website also includes:
Clear and easy to navigate pages and text
New photos of Shawn on the job
Benefit-driven content written by our content advisor
New "specials" section
Redesigned logo
Improved site map
New "schedule appointment" button
See their new website in action at housesservices.com.