Loranda Group, Inc. is a unique real estate company that specializes in helping farmers, businesses, and individuals buy and sell farmland in the Midwest. They have helped sell and purchase over 400,000 acres of farmland and use their website to help make this otherwise difficult process simple and easy to manage.
Frustrated with their previous website and seeing an opportunity to give their clients more online, Loranda Group chose Mavidea to build a better functioning and more attractive website.

Before
Loranda Group's previous website was difficult to update and lacked an attractive modern design. On the old website, visitors also weren't sure how to start their search and where to go after visiting the homepage. The site also needed new content to better reflect their company and what they have to offer current and potential clients.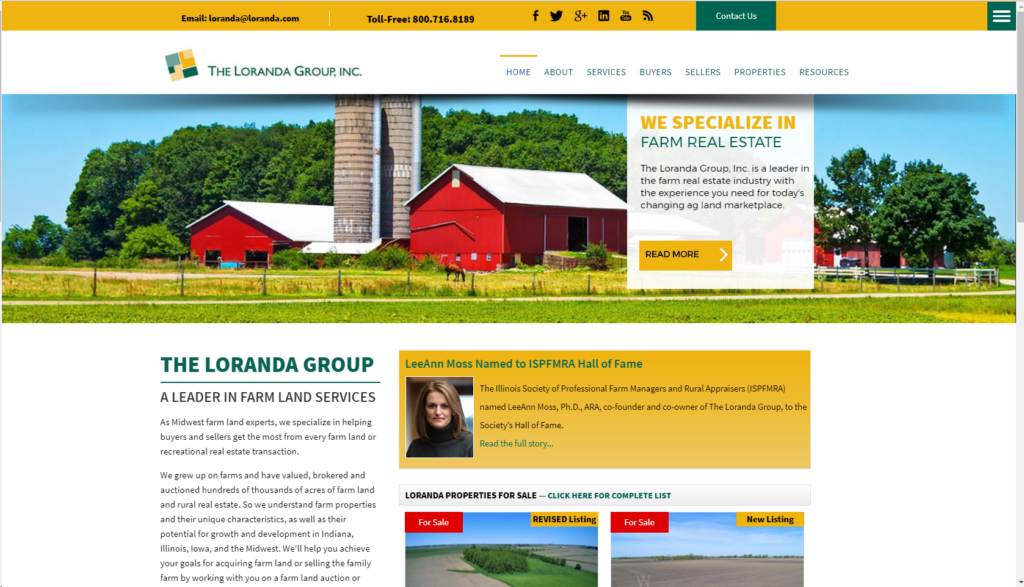 After
In our kick-off meeting and follow-up content call, we learned about Loranda's wants and needs, and their customers, who often have not previously had experience buying or selling farmland. Based on this information, we formed a new sitemap and flow for the new website.
We created a new site with a fresh and easy to navigate format. The new website gives visitors clear calls to action—leading them to the information they need quickly without making them guess where to go next, and highlights testimonials which help them understand the value previous clients have gained from working with Loranda.
Our experienced content writer Michael worked with the Loranda team to understand their business and translate that into new content for their website. View the site at Loranda.com.