360 Yield Center prevents nature and inefficiencies from negatively impacting farms. Their team of farmers, agronomists, and engineers develop solutions to help farmers get more out of their crops while using fewer inputs.
The 360 Yield Center team worked with Mavidea to launch a new website that helps current and potential clients easily understand the value they provide, and helps customers get to the information they need quickly.
Here's a look at how Mavidea worked with 360 Yield Center to upgrade their online presence.

Before
360 Yield Center is a growing company with a team of dozens of employees and eight products they've developed to help farmers increase their annual yield. Like their team and product catalog, their website was also large, but it didn't properly convey the message they wanted to send to customers.
They chose Mavidea to help them build a website that they could be proud to send their customers to for more information and resources on their products, processes, events, and team.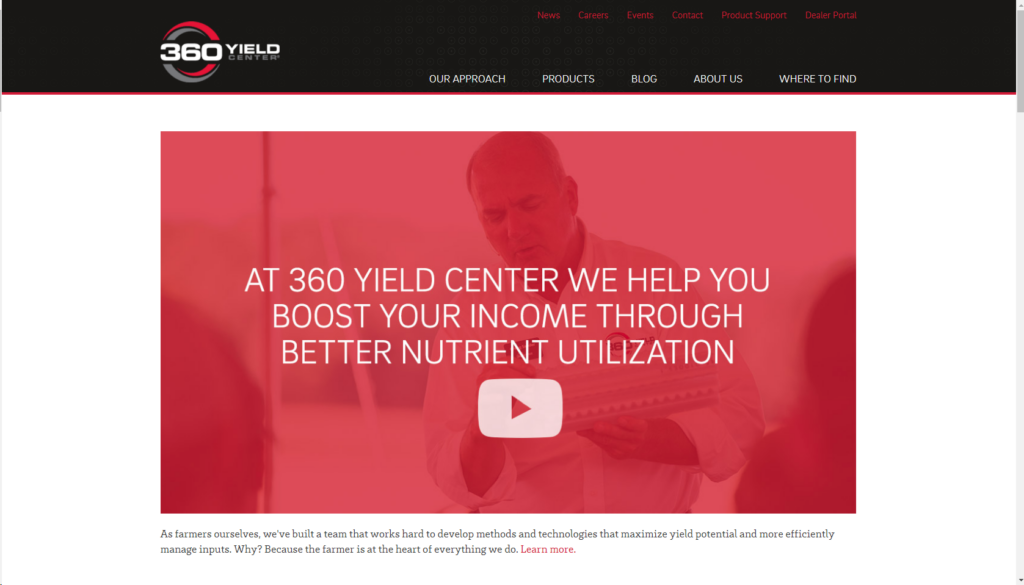 After
The new and improved 360 Yield Center Website gives visitors a quick and up-close view of their products and explains how the company will help a visitor increase their farm's yield. "With a team of experienced and passionate farmers, agronomists, and engineers, we develop solutions to help you maximize yield efficiently."
360 Yield Center sat down with our design team and content advisor to explain what their customers and what they wanted the new website to look and feel like. We developed a new sitemap to help the farms that work with 360 Yield Center to find what they want quickly and new content to help 360 Yield Center convey the right message to website visitors. The new site includes an interactive product menu, new support portal, a blog page, and a "find a dealer" plugin.
We also created a new about page with double-sided photos of team members, which is a nice touch and way to show off their great team. View the new 360 Yield Center about page here, and homepage here.