The Internet changes fast. Sometimes it seems that there's a new web fad every year. Chances are you're moving too fast just trying to keep up with your business. Updating an old website can seem like a daunting task, especially if you don't have a lot of extra time.
But to stay on top of the competition and attract new customers, you must keep things fresh. At times SEO can come across as an esoteric science that only those who understand Google's endless algorithm updates can practice, but in reality effective SEO is simple. It begins with great content.
Over the next few weeks, the SEO experts at Mavidea will highlight five easy do-it-yourself ways that will keep your website feeling up-to-date and ranking higher in search engine results.  The changes require little time and might even help the rest of your business plan. We'll explore one fix per post, so check back for the next SEO tips.
Tip 1: Content is Your Concrete
Build a firm foundation for your site by ensuring that the text on your site is inviting, interesting, and informative. Everything else – from cool pictures or helpful tools – only can keep people on your site if your content is relevant. If you've had the same company blurb for the last ten years, it's time to dust off the cobwebs and replace what you have with some fresh copy.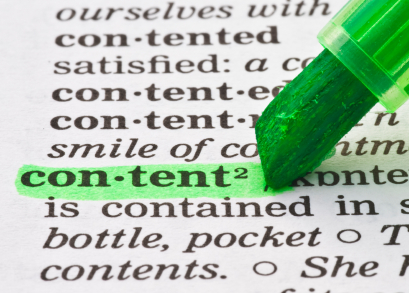 Three things to keep in mind:
Make it interesting. Write things that you would actually want to read. Imagine yourself without the background you have in your industry. Does your content have enough clarity that someone without your experience could understand what you're writing about?
Make it snappy. You can tell a lot about your company and what you do without writing a book. Take a moment to look at some of the most famous brands. Check out their websites. Do they have copious amounts of text on their pages? They tell their story and explain what they do in a brief, interesting manner. You may not have their web department, but you can copy their model by keeping things simple.
But not too snappy. Though the world may be hooked on Twitter, you cannot possibly say everything you should about your business in 140 characters or less. A good rule of thumb is three short paragraphs of information per webpage. The home page of your site should have less copy than other pages.
Taking the time to update your website will set it in a solid place to build other features on it. Stay tuned for other tips on what you can do today to help drive more traffic to your site.